Chip Kent
In our introductory trends issue, the question was asked, "How are you Recruiting, Training, Communicating andCaring (Disney's Success Formula) for your most valuable Business Asset...your Associates"?  May's Issue dealt withSelection-this month we will highlight Training.
Walt Disney once said, "The growth and development of The Walt Disney Company is directly related to the growth and development of its human resources...our Cast."  (Yes, here I go again quoting my favorite"Visionary".)   Ponder that Point for a moment...how much time, effort and investment do you make toward the training and development of your associates?
Orientation is considered to be the first stage of the training & development process.  Some people call it "On-Boarding".  Disney starts with their Traditions Program that weaves the common thread of the History and Culture of the Disney Organization that all cast members (associates) are expected to be ambassadors of!  They are given clear, simple models of behavior that are required by all. A high-level executive will also drop by and say a few inspiring words to show the cast members how important they 'All' are to maintaining the Service Culture at Disney. Are you doing that?
After Traditions, new associates are given additional Technical Training, On-the-Job Training, or both. The new cast members are greeted by an area associate and personally escorted to their next phase of the training process with a formalized, caring welcome at their work location. On-The-Job Training should be done by Trained Associates who consider it a privilege to be a part of the process.  They need to have time built into their schedule to train and should also be rewarded as 'Qualified Trainers'!
The orientation and training don't stop once the associate starts working on their own.  The department manager should follow up with each associate regularly to get the perspective of the associate as to whether they are'Learning or not'.  Why?...because I believe that Training is a process to change, skills, behaviors, attitudes, etc. and Learning is when the associates actually Acquire the new skills, behaviors, attitudes, etc. that are necessary to be successful within your organization.  I also believe if the associate isn't learning-hthe trainer isn't training.  (Assuming the righthiring decision was made in the first place)
Training, where associates actually Learn, should follow this continuous improvement cycle:  Assess the needs of the positions Plan & Design the training Implement the Training Monitor the Training & Assess Results-tweak if necessary. (Now start over)
I leave you with a couple of Points to Ponder and two Chip's PiCKS:
Good Training incorporates lecture, storytelling, video, exercises, and group discussions make it 'Inspiring' and please...have a little Fun!
"What I hear, I forget. What I see, I remember. What I do, I understand." (Confucius)
Chip's PiCKS: 
Telling Ain't Training (2nd edition) by Stolovitch & Keeps
Love 'Em or Lose 'Em (4th edition) by Kaye & Jordan-Evans

Chip Kent
Good business investments have always been important, but perhaps even more so today as you consider where to spend your precious capital dollars. If you are considering spending those dollars to enhance, remodel, or re-imageyour Dining Service Areas, make sure you carry out a comprehensive planning process.
The Starting Point:
Prior to engaging your qualified, food facility design expert-Be prepared to provide a written plan that should Driveyour Design and provide the solutions that will best fit your budget!
Design Drivers: 
Describe the Vision, Mission and Purpose for proposed project
Identify all current and future trends that you may want to address (Bring your team into the process)
Develop desired menu and type of service
Establish ballpark budget so you don't waste design time and dollars
Model operational and staffing requirements for desired services
Evaluate ability of current staff to perform certain skills
Develop Financial Pro Forma of the venue - can your operating budget support this long-term?
Identify food preparation functions that will be performed in the venue
Discuss availability of kitchen areas to support the particular venue
Establish desired traffic flow for diners and staff
Identify structural and utility characteristics of the space
Now that you've outlined the basic Design Drivers, you can dream a little and let your imagination run wild. Be careful though, because this is where projects often times get sucked into the productivity death spiral.  Symptoms of this scenario include lack of agreement among decision makers, numerous redesigns and meetings that many times result in conclusions that were originally made.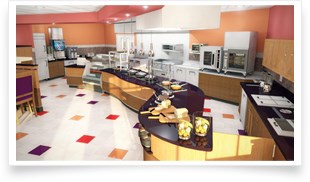 Looking for a way to combat this classic pitfall?  Consider 3D renderings and visualizations. Using state of the art computer modeling, a black and white line floor plan can be converted into a photorealistic image.  For a relatively small investment, these renderings can quickly draw attention to design flaws and oversights. It also helps those that have a hard time visualizing the end result to be comfortable with the design and gives them the certainty of what the finished product will look like!
Ask your food design expert if they offer rendering services, or contact Clark who can provide these visualizations specifically for the dining service industry.  Most importantly-Know, and address your Design Drivers for a Successful Project Journey!

Bob Kelchner
So, you've heard a lot about these combi oven "Miracle Machines" and how they can revolutionize your kitchen. Or maybe you've heard they're overpriced and prone to malfunctions and breakdowns. As with most things we hear, the truth lies somewhere in between! This article will first explain the key benefits and concerns of a combi oven and then discuss some of the questions you should consider prior to purchasing one of these units for your own dining program.
There are a handful of major combi oven manufacturers in the US market today and many more units that are imported from Europe where the machine was invented several decades ago. The word "combi' highlights what makes these units so unique- in one mode they act as a convection oven, in a second mode they act as a steamer, and in a third mode they "combine" these functions to offer the best of both worlds. This not only makes for speedy cook times, but also allows food to retain its moisture and natural nutrition through the gentle steaming process while allowing the convection oven mode to caramelize the outside of the product. Whether you are baking, grilling, roasting, frying or steaming- a combi oven can be a powerful tool in your kitchen when properly utilized.
Make sure you find the answers to these questions before making a purchase!
Do you need the power of a boiler unit or the maintenance-ease of a boilerless unit?
Are the controls intuitive and easy to understand?
Should you consider additional options such as HACCP reporting software?
How easily are menus programmed and stored for use by your kitchen staff?
Does the unit utilize a temperature probe? Is it a standard accessory?
Does the unit have an automatic cleaning system? Does it require pellets each time or can it automatically feed itself the cleaning chemicals?
What is the proper configuration for you? Combi Ovens come in many different sizes and capacities.
Will your menu and staff be able to get the full benefit of this technology and return on investment out of these special pieces of equipment? Do you have the time to effectively train your staff?
The bottom line is that the combi oven may very well be the most misunderstood piece of food service equipment.
Combi Ovens are great in the sense that they can bring unparalleled efficiency and food quality to a dining operation that embraces the technology and fully utilizes the menu programming features.
Combi Ovens can be bad in the sense that they can be a waste of money and a maintenance nightmare if they are not used to their fullest potential, not installed with the proper water filters, not properly cleaned and maintained regularly. They can also cause headaches if you don't have the proper menu software programming in place or don't have back-up equipment when this unit is out of operation.
Make sure you do your homework before purchasing one of these units or talk to a trusted professional (like Clark!) who can arrange a live demonstration so you can truly understand what you are investing in!

Make sure that water lines feeding into combi ovens, steamers, ice machines and dishwashers are first run through a water filter and in some cases where water is exceptionally hard, a water softener. By using these systems and regularly changing filters, you will ensure that your equipment not only works properly, but also performs at peak energy efficiency- saving you money on utilities!