Megan Kern
Today's food service establishment can "go green" in many different ways, including using energy efficient restaurant equipment, sustainable construction materials, or "green" disposables during everyday operations, or by implementing an eco-friendly waste composting program for disposing of food scraps, organic waste, or spoiled foods.
The image of using "green" disposables for plates, cups, takeout containers, and utensils is a positive one that diners can actually see, but at the end of the day, are you really helping the environment or simply paying more for the image?
To answer this question, you must first understand the difference between biodegradable items and compostable items. Biodegradable items are made from plant or animal sources and break down as a result of naturally occurring microorganisms over a period of time (think bamboo disposable plates). Compostable items are similar to biodegradable items, but in order to be classified as compostable, they must break down into carbon dioxide, water and biomass (organic matter that can be used as fuel) without producing any toxic materials (think sugarcane takeout containers).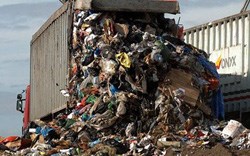 One key factor for both of these types of items is that they must be disposed of in a way that enables them to breakdown as they were designed. If biodegradable items go to a landfill, they will be buried and not receive the air they need to breakdown similarly, if they go to an incinerator-like the one used in Lancaster County, PA- they will also not have the opportunity to breakdown as designed. Compostable items must be added to a composting facility, where proper disposal training is needed because these items can easily be contaminated by the addition of noncompostable products such as plastic drinking straws.
In order to ensure proper breakdown, education is necessary for your purchasing department and dining staff, as well as for your customers. If you spend money on green disposables, make sure they are being disposed of in a way that will take full advantage of their green properties. And, at the end of the day if green disposables are not the right answer for your operation, find another way to be green such as using more energy efficient equipment and educating your staff and clients so they know you are doing your part!

Restaurants are the retail world's largest energy user. They use almost five times more energy per square foot than any other type of commercial building, says Pacific Gas & Electric's Food Service Technology Center (FSTC).

Chip Kent
The answer should be similar to the formula behind Walt Disney World's business success! This formula creates the Quality Cast Experience that is the Engine behind the Quality Guest Experience that creates unparalleled Customer Loyalty!
This article's focus will be on the first and most important part of this formula- Selection, and developing a Selection Strategy! After all, you can't train or communicate to someone that you didn't properly select.
Listed are some components that need to be considered before bringing in your first interview:
Realize that your associates (talent) are, or will be, the only consistent competitive differentiator between your business and others like yours
Never approach the Hiring/selection process without a well thought out Written Strategy (Yes, written!)
This strategy must include a complete, written Job Analysis-Don't 'wing it' and let emotions and gut-feelings take over some where during the process

Know your needs before you advertise
Develop an accurate job description before you meet candidates
Involve current, successful employees in developing the strategy and throughout the process
Prioritize the important tasks, knowledge, skills & abilities required to perform the job successfully

Know that most individuals establish innate talents or strengths by about age 13 and this won't change. By finding out people's talents, you can match people to what they normally & naturally are good at and enjoy doing. You can develop a talent/behavioral profile to assist you in putting the right people in the right jobs. This helps you to hire right and adjust your current workforce to make the most of it. Disney figures this out during their Selection Process!
INTERVIEWING - the sequence
Prepare in advance-If you don't know exactly what you are looking for, you probably won't find it. Again - don't 'Wing-It'!
Have standardized, written questions prepared inadvance so you can more fairly and accurately comparecandidates - Score answers - stay on track
First, hire for Attitude & Motivation - you can't train that!
Second, hire for Cultural Fit - Your Organization isn't goingto change (neither will the candidate)
Third, hire for Aptitude to Learn within your area-of-need.A candidate you can teach
Fourth, gather information so you can do proper reference checks (no, it's usually not a waste of time)
Two things you can't change in my opinion on:
1) Following this type of comprehensive process would ensure that you have a better chance of making a more successful Hiring decision the 'first time'
2) Right-Fit, Right Hires (the first time) will improve your Business Results
Call me Goofy, but I really believe in the Disney Magic and the Business behind that Magic!
Cheers!

Chip Kent
When your customers are eating in an informal dining or café environment, one of the biggest disappointments a caring dining service operator can feel is when a customer exclaims, "The hot food isn't hot!"
If you've ever heard this complaint, chances are one of the following "check-list" issues exist:
The food wasn't hot when it was put into the holding equipment
The holding equipment is not functioning properly or is being misused
The wrong type of equipment is being used for the application
Or... It's not the equipment it's the line design or style of service for that specific customer situation
This article's focus is to make sure you have the proper front of the house, hot holding equipment for your application.  It's just one, but one very important consideration that will ensure HOT food is Hot and your customers are HAPPY. Below is a guide for three major categories of front-of-house hot holding equipment. Top heat strip warmers or decorative heat lamps may also be considered with any of these options below.
 

PROS

CONS

Steam table (Wet)

Tried and true
Less expensive
Maintains superior food quality
New inserts & dividers becoming available  that allow for greater flexibility and improved appearance

Requires plumbing in some applications
Can be perceived as institutional or old-fashioned
Operator tendency is to overfill pans, or not freshen product often enough resulting in waste and unappetizing appearance

Heated Shelf

Drop in model doesn't take up much under counter space
Doesn't require any plumbing utilities
Flexible serving displays
Modern appearance
Designed & best used for pizzas or flatbreads placed directly on the surface

Not designed for long term, large quantity holding
Not designed for "thicker" products or deep food pans
Pans used must be perfectly flat and shallow for maximum surface contact

Induction Warmer

Can use decorative pans & chafers
Wet or dry use
Drop in model doesn't take up much under counter space
Doesn't require any plumbing utilities
Precise temperate control
High energy efficiency
Considered trendy - some products are even designed to be hidden underneath stone countertops for "invisible" warming
Flexible use depending on layout

Higher initial cost for equipment and basic accessories
More "technology" that can break compared to traditional steam tables
Now that you understand three of the basic options available for front-of-house hot food holding equipment, make sure you consider the following questions before making your next purchasing decision:
What type of menu/food is being served?
How long will the food be held and how much might be needed at any one time?
Flexibility needed for future menus?
What is the method of service?
Where is the hot food placement in relation to other food items?
How long does it take from the time the hot food is picked up until the food is actually eaten?
What perception of the display equipment do you want to achieve?
What is the short term budget vs. long-term investment?
Asking these questions and considering the information above will help you make the right decisions when it comes to front of the house hot holding equipment.