Leslie Lindeman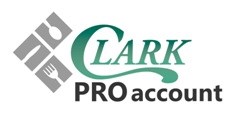 Introducing ClarkPRO – Your High Tech, High Touch solution to online ordering
Previously, Clark Food Service Equipment followed the traditional street sales model for selling equipment and supplies.  But several years ago, the team developed ClarkIT—Clark's first online ordering system.  This past winter the system was relaunched under the new name, ClarkPRO Account, with enhanced features that more accurately reflect its user's evolving needs.  It blends the convenience of web procurement with the assistance of dedicated account managers. 
Navigating the Website
Throw out the paper catalogs you endlessly flip through and become outdated as soon as they're published!  ClarkPRO makes browsing and buying a simple process.  Typing a query into the product search engine filters through over 100,000 items in the blink of an eye!  A search may give several options that look similar in nature, but have substantial differences.  ClarkPRO will compare the products' differences and allow customers to make good, informed decisions. 
In addition, ClarkPRO offers unique tools to organize purchasing:
Order Guides
Account managers help to create a customized list of everyday items to make re-ordering fast and efficient.  Customers can adjust order quantities, see how many are in stock, and easily move products directly to a checkout cart.
Project Builders
Users can compile a "wish-list" of future items for a special event, remodel, or rennovation. They can also export quotes to colleagues, committees, or any other decision makers. 
Customizable Reports
Fully customizable to your unique needs, monthly or quarterly reports can be compiled to keep your operation's purchasing on point.
A Personalized Experience
The ClarkPRO team strives to provide customers with great products, service, and helpful information.  Knowledgeable account managers offer personalized opening order support for customers and make helpful product recommendations.  Each month, the account mangers craft sample boxes of products, highlight new items on the website, and feature a "Get This Look" slide that one can replicate by simply adding the list to the checkout cart. 
Simplifying Geisinger Health System
Geisinger Health System has many different supply needs for cafeterias, patient services, and catering.  Previously, they lacked a uniform procurement process.  Every division of the establishment ordered separately and from multiple distributers.  Recently, ClarkPRO Account Managers stepped in to simplify the method.  Individual employees now place all of their orders through ClarkPRO and a selected "gatekeeper" supervisor approves them for processing.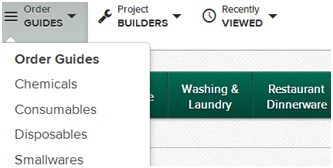 Additionally, the ClarkPRO team streamlined ordering by organizing items into categories or locations.  The Account Manager also searched for potential cost savings by suggesting different items or brands based on the customer's needs and preferences.   Moving forward, Geisinger can try samples of items that might be of interest and these products can be added to the order guide as new needs arise, menu items change, or health inspections mandate adjustments.  Compared to Broadliners, ClarkPRO offers a wider selection and premier pricing, for smallwares in particular.  Plus, the customer can purchase everything in one place rather than dealing with multiple distributors. 
The Future of High Tech/High Touch
The ClarkPRO team continually strives to make ordering more intuitive and user-friendly.  The most exciting and challenging part of their job is working alongside customers to evaluate, consolidate, and enhance the effectiveness of their products.  ClarkPRO has all the benefits of an e-commerce industry with the personal touch of experienced account managers.  As ClarkPRO continues to evolve, the team and the system will "change with the customers, not with the competition," a sentiment that can resonate with almost all Trends readers.
Check out ClarkPRO today at www.clarkpro.biz!  For more information or to get set up with an account, contact Kristin Cotter at kcotter@cfse.biz.

Chip Kent
As we accelerate deeper into the New Year, most of us have at least thought about more exercising.  Whether your thoughts have turned into action or not, I would suggest you consider a different type of exercise – one that is non-aerobic and can even be done in a lounge chair!
Emotional Intelligence or EQ (Emotional Quotient) develops the 'physical pathway' in your brain enabling you to get winning results when you communicate with others. This 'pathway' communicates what you hear from the back of your brain, through the emotional part of your brain that is in the middle, and ends in the front where you think rationally.  EQ is your ability to recognize and understand emotions in yourself and others quickly and use this awareness to manage your behavior. It comes down to thinking (intelligently) before you talk, or else you may have an emotional response not influenced by any rational thinking.  Nothing is less productive than having a rational thought hijacked by an emotional outburst! 
Growing up, I was told, "When someone makes a statement that makes you angry or upset, count to ten before responding."   I now know that was to give me time to get the communication from the back of the brain to the front where I hopefully could influence my response with some coherent thinking. It's that simple! 
Many good books have been written on this subject.  Most recently, I have found the book Emotional Intelligence 2.0by Bradberry & Greaves to be most useful due to its simplicity in breaking EQ into four easy to understand skills:
PERSONAL COMPETENCE (about you)
Self-Awareness
Self-Management
SOCIAL COMPETENCE (how you are with other people)
Social Awareness
Relationship Management
Improvement in the above four skills can have a positive impact on both your professional and personal life.  Unlike IQ and personality which are distinct qualities, we all have the power to improve our Emotional Intelligence.  
Chip's Pick – Buy Emotional Intelligence 2.0 by Bradberry & Greaves and take their free Emotional Intelligence Appraisal.  Then study the simple, effective steps and strategies toward improving your EQ.  I encourage you to exercise your brain by reflecting on past interactions that ended in an unfavorable emotional response and consider how to improve communication between your emotional and rational brains in the future.
Quote to Note…
"I've learned that people will forget what you said, people will forget what you did, but people will never forget how you made them feel."  Maya Angelou
…need I say more?  

Josh Killian
Recently, a "buzz word" has become more common in the food service industry…that word is "Turnkey." Turnkey refers specifically to the growing sector of customers in need of remodel or renovation projects done quickly and efficiently.  In the past, when a client wanted to remodel a space the following steps were required:
- Hire an architect
- Hire a Food Service Designer
- Interview general contractors
- Interview electrical contractors
- Interview plumbing contractors
- Interview HVAC contractors
- Interview interior designers
- Contact several millwork companies
- Contact Local Township and request for permitting specifics 
And so on and so on…
What begins as a simple renovation or remodel can quickly become an extremely time consuming and overwhelming endeavor.  In some cases, the project never moves forward because of the front-end expenses and complexity of the process.
What can a Turnkey Company offer to a customer? 
A Turnkey Company takes the "vision" of a customer from initial design to reality, handling all the steps in between.  They use their expertise of the industry to ensure the job runs smoothly, while assuming all responsibility.   Major benefits of working with a TurnKey Company include:
Complete Package: Ability to offer entire packages that include the initial design, Architectural Services, Construction Services, Project Management and everything in-between through the completion of a project.
Virtual 3D Renderings: Provides 3D Color Renderings to help expedite the layout and interior design process so all parties are on the same page.
Maximize Efficiency: Combines all trades to streamline manpower, control materials, and tighten deadlines to reduce the project's overall timeline.  
Minimize Risk: Assumes the operational risks through the completion of the project; cash flow of the project is handled by one company instead of several.
Cost Savings: The highly efficient and simplified turnkey approach results in direct financial savings for the customer.
Personal Approach: Allows the owner to have a single point of contact through the entire project, meaning just one phone call, one site meeting, and one point of contact to keep in constant communication for updates on the project.
With the ever changing economic climate, the construction and renovation industry has to evolve.  By today's standards clients are looking for the best bang for their buck and most value on the dollar.  TurnKey renovations provide an efficient solution by utilizing mass collaboration and initiating rapid deployment.  As a result, this new strategy is stretching the dollar much further than previous renovation processes.
Clark TurnKey Solutions Group is focused on offering fast, high-quality remodeling and renovation projects in the commercial food service industry.  If you're interested in more information on TurnKey Services, please contact Josh Killian, Director of Operations, jkillian@clarkturnkey.com.