Chip Kent
Making Your 'DASH' Matter
A Reflection for the New Year
As the craziness of the Holiday Season comes to a close, I began to think about the upcoming New Year from both a personal and professional perspective.  The end of a year is an influential time – a time of workplace and family cheer, celebrations, reviewing accomplishments, and planning for the year to come.
As I've gotten older, I have found it to be worthwhile to spend some quality time in self-reflection.  As each year passes, our career and life keep getting shorter.  It's important that as an employee, supervisor, manager or family member, we take time to reflect on our past accomplishments and short-comings.
During one of my periods of reflection, I heard a radio commentary about the information on a tombstone.   Tombstones typically show a Name, Date, Dash, and then another Date.  Those two noteworthy dates are one's entrance and exit.  Between those dates that are signified by a 'Dash' is a lifetime of professional and personal experiences.  Those experiences include love, laughter, happiness, sadness, pain, suffering, success, failure, joy, and a myriad of other experiences and emotions.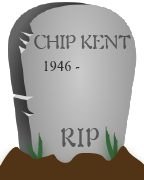 Wow, what a powerful image…
We didn't have control of the first date and for the most part, we have little control over the last date.  However, we do have control over what happens during the 'DASH'.  
As the New Year approaches, take time to reflect on your 'Dash' and consider the following -
Embrace positive values and priorities by leading by example.  Consider how powerful and effective you can be if you are able to inspire others. Make part of 'Your Dash' the Giving of the 'Gift of Inspiration' – a Gift that keeps on giving.
Think about your legacy.  You don't have to be nationally famous to leave a legacy.  Great people are constantly building their legacies by adding value to the lives of everyone that they deal with.  
Be significant by making a positive contribution and mark on the people around you including your family, your peers, your customers, bosses and anyone else you may come into contact with!
My final point, whether at home or at work - Make Your DASH Matter!
Have a Happy and Blessed New Year from the Clark Associates family.
Ryan Tiburtini
Imagine you have just completed the process of a café redesign and installation, only to discover a few key decisions were somehow overlooked!  Customers are complaining there isn't anywhere to rest their trays and/or plates along the serving line, the food isn't hot enough, the display case has massive condensation on the glass, and the beverages aren't cold enough.  Now you are spending unwanted additional capital to remedy these issues.  Any one of these complaints will ultimately result in an operator's nightmare.  So how can you get a full night's sleep after your project is complete?  Address the root cause of the customer dissatisfaction and avoid potential design flaws prior to installation. Here are a few areas to consider discussing with your food service professional at your next design meeting.
Extended Top Millwork
In modern day operations, most operators are moving away from tray slides - for good reasons.  Tray slides portray an institutional feel, present an unappealing sight, and pose operational issues for many customers and staff.  So how can you provide the same benefit as a tray slide without the visual disappointment?  Extend the millwork top! 
Extending the millwork top will provide an aesthetically pleasing sight with increased versatility for numerous serving options.  With the extended top, you are able to satisfy both tray service and plate service without looking institutionalized.  Want to vary the serving style per meal?  Problem solved.  You have the space for customers to rest their trays and/or plates but also the visual appeal for a menu style dinner.  However, don't forget to make sure a plate pick-up area is strategically placed to alleviate excessive reach for your customers.  By simply extending the top of the millwork, you are preventing future headaches and saving valuable capital.
Top Heat
What is the single leading complaint in reference to serving lines or displayed foods?  The food isn't hot enough!  Typical operations will have the hot food displayed in a steam table.  Sure, steam tables will keep food warm for the most part, but by design they only keep the bottom half of the displayed food warm.  In order to keep food warm in its entirety, top heat is essential.  Top heat can come in the form of strip warmers or bulb type heat lamps.  These heat sources provide the additional top heat necessary to keep your displayed food at the perfect temperature for supreme enjoyment.
Display Case Location
Display cases, or open air merchandisers, are becoming very popular in today's operations as the new trend of Grab-N-Go becomes increasingly utilized.  Merchandisers have great visual appeal as well as great functionality; however, these units have a few key disclaimers which are often overlooked.
Did you know the environment in which the case is held is extremely important for the unit to work properly and to prevent any excess condensation?  If you read the unit's operation manual, the maximum conditions are to be 55% humidity and 75° Fahrenheit.  Also, these units are meant to keep food and beverages cold, not to make them cold.  Therefore, the food and beverages should be cold prior to being placed within the merchandiser and for maximum performance, the merchandiser should remain full. 
There you have it: a few key areas of discussion prior to any renovation for increased efficiency and happier customers and staff.  Make sure your service style, with or without extended countertops, top heat, and potential display case locations are bullet points on your next design meeting's agenda.  And once your new café is up and running, you can enjoy that full night's sleep.

Chip Kent
Ethics is a very sensitive topic.  Some people assume that right and wrong decisions are always very clear while others argue that right and wrong choices often depend on circumstances, motives, intentions, etc.  Some people confuse "ethics" with "legal compliance".  They believe that if it's legal, it's ok.  Regardless of your view it's important to be aware that different people have a different perspective on what is ethical and what is not.  
Why not spend proactive energy toward improving the ethical climate in your organization before you experience a problem?  Consider providing your associates in all positions the tools that will help them make better ethical judgments when making  decisions or taking action.  Whether you provide a formal written program or have an awareness meeting to discuss the topic, this effort will make your organization stronger and more effective in the long run. 
Making an ethical decision takes knowledge, reflection and courage.  Here are questions to ask yourself and encourage your associates to ask when making decisions:
Do your decisions and actions pass the compliance test? 
Do you know the laws and rules and understand the spirit behind them?
Do your associates know the expectations for appropriate behavior in your organization?
Do your associates know where that line should be drawn when making decisions to best represent the ethics of your organization?
Have you fully evaluated the ripple effect of your decision or action?
Have your associates evaluated the impact of their decisions, assuming that their choice will become widely known throughout the organization and to the people you serve?
Are there people within the reach of your decision that you would not want to find out why you really made the decision you did?  Would you change your mind and make a different choice if you knew they would find out?
Would you or your employees make the same decision or take the same action if the world was watching you from behind a two-way mirror?
Have you taken the time to reflect on the decision that you've made?
Are you and your associates listening to that inner voice of your conscience?  
Is each decision and action about doing what's right, fair and honest done with integrity and respect?
If your employees are uncomfortable with a decision they are considering, are they encouraged to talk with you about it?
Following this 3-step process is not the only way of making good, ethical decisions but it's a great starting point.  Always remember that people are good at rationalizing so reviewing these questions on occasion will keep ethics in the forefront employees' minds.  Successfully navigating the ethical world is a way to create excellence within an organization and pride in oneself.