Kim O'Brien
We've all heard the adage "Practice makes perfect." The same holds true for the restaurant industry! If you're a burgeoning restaurant, consider hosting a series of soft openings to serve as a "test run" before opening your doors to the public. Below, we share the soft launch strategy used by Lancaster, PA restaurant Aussie and the Fox, whom officially opened their doors on August 20. Clark Food Service Equipment had the opportunity to design and equip this unique venue, which offers a casual café atmosphere by day and an upscale dining experience by night. The venue is the brainstorm of retired Armstrong Industries executive Frank Fox, his granddaughter Julia Garber and her Australian fiancé, Colin Morrell.
A merger of American fare with a Down-Under kick, the restaurant hosted invite-only meals weeks before their grand reveal. If their first month of operation proves anything, Aussie's soft opening strategy has proven to be a success. "You almost have to have a reservation now," noted Kim Liedel, Aussie's front of house manager. "It's a good problem to have."
The Logistics
Aussie and the Fox opened their doors in incremental sneak peeks offered over the course of one week. Three bar and appetizer launches were held (two were friends and family only, and one was held for downtown merchants). The first test course was a Sunday brunch. A breakfast (or brekkie, as the Aussies say) only day came later in the week, followed by a lunch only day. Lastly,Aussie hosted a dinner only evening. To test the waters, they opened their doors to the public for both breakfast and lunch one week prior to opening. By the time the restaurant officially opened on August 20, the staff was already accustomed to fielding crowds of more than 100.
Each soft opening was reserved for friends and family who received hand delivered invites and emails, with groups of invitees broken into specific time periods of 20 people per hour. They invited about 100 people to each bar soft opening, and 60 to each meal. The restaurant did, however, permit walk-ins for breakfast and lunch when space permitted. Liedel noted that they saw an estimated 60 to 70 people for the breakfast and lunch openings, while the brunch and dinner launch drew a crowd of over 100.
It's important to note that each restaurant varies in their pricing and menu strategy, with some offering free food, discounts, or a menu limited to just a few dishes. Aussie decided to take the plunge and reveal their full menu for each mealtime. Invited guests received all food at a 50% discount (not including alcohol).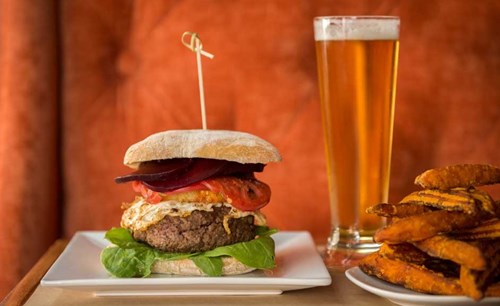 The Invitees
You might ask, why limit your test launch to just friends and family? For starters, "they're more forgiving," said Liedel. A crowd of familiar faces will give you honest input while understanding that this is a test run prior to your grand opening. This pressure free environment allows you to assess your strengths and weaknesses, whether that be communication from front to back of house or customer complaints (and compliments!) about menu items.
Once you've fielded family and friends, take a cue from Aussie and extend an invite to your neighbors. Nestled in center city Lancaster, they're surrounded by cafes, bars, and shops frequented by locals and tourists alike. By inviting local merchants, Aussie introduced themselves to the patrons who will be stopping by their space for lunch, happy hour, and more.
The Tucker Box
One month prior to opening, Aussie brought a unique grab-and-go food option to downtown Lancaster: The Tucker Box. Co-owners Garber and Morrell wanted to "push the idea of a grab-and-go breakfast with amazing coffee," said Liedel, adding that the concept has been "a phenomenal success." If you run a similar stand or other fast casual operation prior to your grand opening, be sure it makes a statement about the quality and character of your establishment. In the case of The Tucker Box, that was Australian-style coffee brewed fresh on the spot. Fun flavors like the Dirty Hippie (espresso, chai, and steamed milk) and lattes flavored with housemade syrups reflect both the playful and sophisticated side of Aussie and the Fox.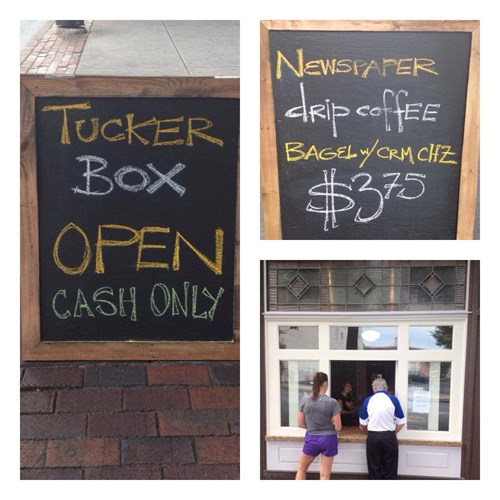 Soft Opening Marketing Strategies
While the focus on restaurant marketing has shifted largely to social media, it's important to utilize events close to home to provide a live showcase of your menu! Aussie and the Fox made their local presence known long before opening their restaurant doors. First notice of the new restaurant hit the press in early November. The restaurant served up wine, appetizers, and desserts at an Allegro Chamber Orchestra concert and hosted a table at Lancaster's Third Annual Food & Spirit Festival, both in late July. And you'll find them in press including Lancaster Newspapers,Fig Magazine, Central Penn Business Journal, and the DowntownLancaster.com dining page.
Photos courtesy of AussieAndTheFox.com

Andrew Barshinger
Computer aided design technology is constantly evolving.  One of the most important technologies introduced into design software is the ability to render photorealistic, three dimensional scenes of projects.
Provide Clarity
In the past, a 2D drawing was the only document available to portray design intent to customers. While it's easy for a trained designer to envision the finished product from a 2D drawing, it may be a different story for the customer.  If customers only base their input on a black and white 2D drawing, they can easily miss the big picture. 3D Renderings apply materials, textures, and lighting to a scene, showing exactly what the finished product will look like.  Customers can make decisions on everything from counters and equipment to floor finishes and paint color for the walls.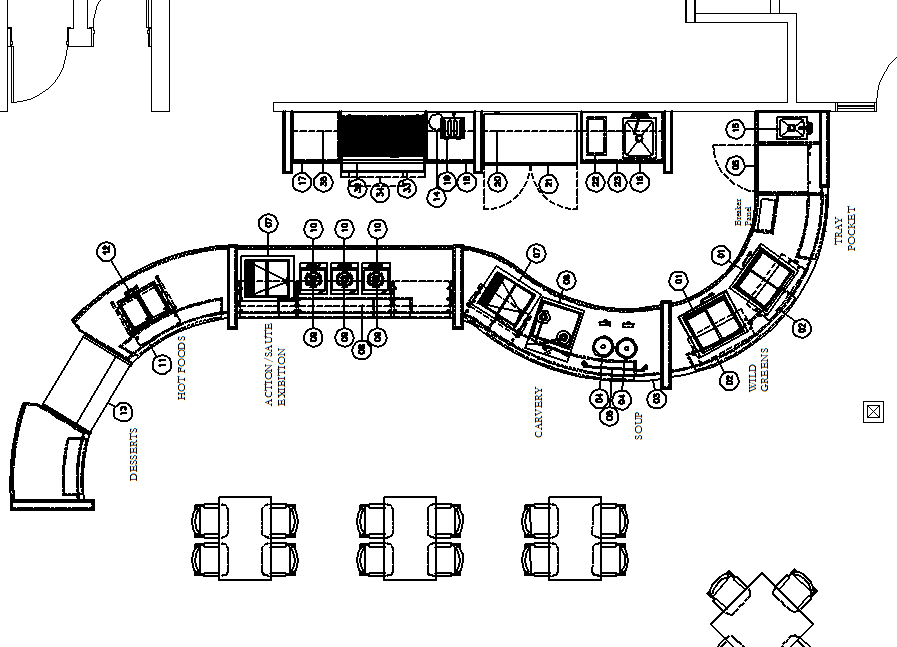 A customer may look at the 2D plan above and not interpret that the dotted lines along the back counter are actually cabinets. This can easily be seen in the rendering below.
Save Time and Money
Making these informed design decisions at the beginning of the project can help avoid costly change orders later.  This in turn can eliminate project delays due to those change orders.   Using the actual materials allows each piece of equipment and millwork to look as exact as possible, so no surprises occur when the finished products arrive on install day.
Marketability
Whether you are promoting your new facility to your customer, getting your Board's approval for the project or compiling fundraising materials, a 3D model can help.  Photorealistic renderings bring a 2D plan to life.  Whoever you are presenting the proposal to can easily visualize the facility's potential.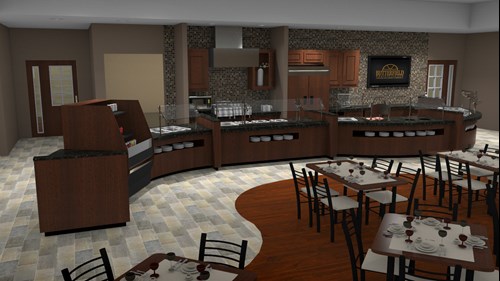 Project renderings assist in the complete design process.  They allow customers to see the final product down to the last detail.   As software continues to improve, results will be even faster and easier than ever before.   Clark Food Service Equipment is the leader at providing these types of design products, and would be happy to assist with your next project.  Contact us today to explore the unlimited possibilities! 

Emily Gertenbach
In the land of often supersized portions, more and more dining establishments are turning toward small plates, tasting flights, and petite serving ware to create a fresh presentation style. By being able to sample an array of items, customers feel like they're enjoying quite a spread – but the portion controlled sizes save restaurant operators money!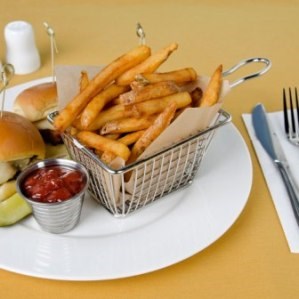 Any dining operation can easily incorporate this idea into their offerings with attractive, single-portion sized serving dishes and glasses. In this month's Trends blog, we've compiled a list of some of our favorite "miniature" sized items that are perfect for bringing this hot trend into your establishment!
American Metalcraft CIS41 4" Mini Cast Iron Fry Pans are great for serving appetizers, side dishes, small desserts, and other individual dishes for one person.
Cardinal R0734 Mini China Soufflé Dishes are perfectly sized to hold baked petite soufflés, soup samples, or sauces.
Serving fries, mozzarella sticks, pretzels, and other side snacks are a great use for American Metalcraft Mini Stainless Steel Pails. These charming buckets each have a swinging handle and shiny exterior that fits in perfectly with indoor or outdoor casual dining.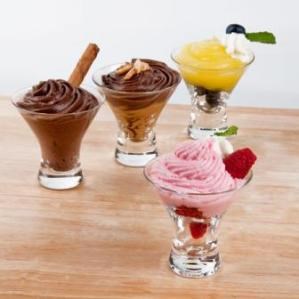 The American Metalcraft FRYT433 4" Mini Fry Basket is also a great way to serve French fries and other fried snacks. It looks just like a fryer basket, but perfectly sized for an individual portion.
Even Mexican food can get the miniaturized treatment with American Metalcraft Mini Taco Holders, available with one to five compartments! These small taco holders are great for use with small sized $1 tacos, appetizers, and sweet treats like cannoli or biscotti.
Filling Anchor Hocking 90063 Perfect Portions Mini Martini Dessert Glasses with 2.5 oz. of rich puddings, creamy sorbets - or even an espresso shot - is a great way to top off a fabulous small plates meal!
Cambro Aliso DG3CW Square Plastic Mini Dessert Glasses are another good option for delicious dessert shooters or delicious breakfast parfaits. Plus, they are made of break-resistant plastic that can be customized to show your own logo!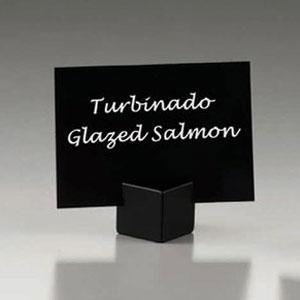 Anchor Hocking 93013 Barbary Beer Flight Tasting Shot Glasses are ideal for showcasing craft beers and microbrews. These 4.5 oz. glasses can be lined up four at a time on the Anchor Hocking 90038 Wood Beer Flight Sampler Paddle for an attractive, convenient presentation option.
And, because it's important to let your customers know what each dish is, American Metalcraft TAGA6WT Mini Chalk Cards are ideal for labeling dishes on a buffet style table. Each pack of 20 cards comes with a marker for easy writing, and can be paired with any of our menu card holders for a pulled together menu presentation.
For more information about these items, or to learn about other fun "miniatures" that are great for portion control, contact Kristin Cotter at kcotter@cfse.biz.