Chip Kent
More often than not, a changing situation makes or breaks a leader.  When leaders are faced with a stressful situation, the job needs to get done right and right away.  Business goals, job requirements and resources that they are used to having – CHANGE!
When you look into the face of change, do you see danger or opportunity?  Your attitude will drive your direction and need to seek opportunities in change.  We know changes within our organizations are not going away.  If fact, history tells us we better start leading the speed of change, or change will overrun us and leave us in the dust. Begin leading change by providing your peers and staff with a positive way of looking at change.
Here are some facts to consider:
Most of us are more afraid of change than we would like to admit – even to ourselves
Find ways to solicit input from your people and think about how your team might approach a change that's taking place. 
Leading your team means helping them understand the wisdom of a change; it's helping them see how if they choose to change, they gain
Understand that today's turmoil will appear tame by comparison.  The future offers a larger volume of change; it will happen even faster and the change will be more complex
After all these years of change, most employees are still in denial about change.  Resisting change creates dysfunction within an organization that impedes success
Ask yourself, "If I wasn't afraid of what change may bring, how would I act after there is change?"  When you see the positive vision of what the possibilities could be with any change, it will energize you.  Determine what the organization considers success from a change and then make that your vision.  Go for that vision with passion and persistence and you will become a successful leader.
These ideas sound too common-sense, you say?  Surprisingly, not many people, including leaders and managers, understand or adopt these points during times of change. The Key to Leading during Chaos and Change is resiliency.  The ability to absorb high levels of disruptive change while displaying minimal dysfunctional behavior is a valuable leadership competency within any successful organization.
Your goal as a leader is fast recovery from disruption that is caused by change
You need to be the resource to help your team recover from disruption
Don't wait for things to slow down – they won't
Don't resent people for not having all the answers – they seldom do
Don't be surprised by the unexpected – expect it
Be honest with your team - If you don't have the answers, say so
View today's disruption as tomorrow's order
Take responsibility for architecting the future & enjoy it
Leaders successfully lead change, or the leader gets changed!

Daniel Godfrey, AIA
This addition of Trends focuses on the senior living industry and is written by guest author Dan Godfrey, AIA. Dan is an associate at RLPS Architects, a premiere architectural firm for the senior living industry.
Culture Change: One Size Fits All?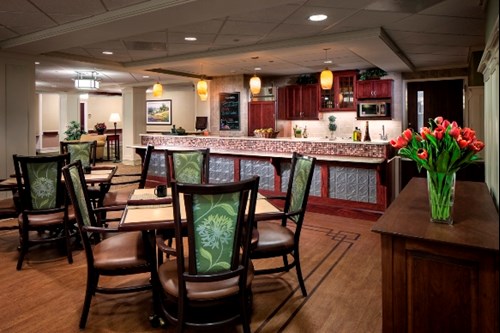 If your profession involves senior care, you have undoubtedly heard the term "culture change" for the past few years at conferences and in numerous publications.  Simply stated, culture change is an effort to transition from an institutional model of health care delivery to a resident-centered model that looks and feels more like home. Generally speaking, everyone agrees that culture change is a necessary and desired shift in the delivery of services and care to seniors. Developers advocate culture change.  Design professionals support it.  Retirement communities have incorporated the term and its concepts into their brands and mission statements.
So now that the various industries serving the senior care market have embraced the culture change initiative, there must be a prescriptive process for making the shift at your existing facility.  It should be as easy as ordering a Happy Meal.  "Yes, Mr. Architect, we would like one open living and dining room, one decentralized work station, a residential interior finish palette, a large Coke and a side of fries."  Congratulations, you have now officially changed the culture of your facility; or have you?
This drive-through scenario may be an appealing concept, but it's not a very realistic one.  In reality, the experience of changing your culture may be more like a buffet.  The meat and potatoes of the planning process are fairly consistent from facility to facility.   Dining, living and activity spaces will expand and be more open and accessible to residents.  The institutional hospital aesthetic, commonplace in the medical model facilities serving the previous generation, will need to be repackaged and services discreetly relocated.  And yes, the finish palette will ultimately receive a face lift.   Elements that grace the covers of home magazines and catalogs will be incorporated into the newly improved spaces within your facility.   Experienced designers will find ways to seamlessly incorporate these elements in a creative fashion that makes everything feel new. 
However, a "buffet" approach to culture change also allows a care provider to choose and modify common elements to fit individual mission guidelines, staffing patterns, programming goals and facility constraints.  A perfect example is the provision of food service.  Many facilities have a central commissary that provides bulk food to multiple dining venues.  Culture change typically envisions uncooked ingredients being delivered to a satellite kitchen to be prepared, cooked and served to residents in individual households.  For some facilities this presents a challenge from both a staffing and logistics standpoint.  Satellite kitchens require a chef and servers, as well as adequate space and equipment to prepare, serve and store food.  The food service components of some facilities are not structured to accommodate additional staff and skilled labor.  Additionally, the satellite concept of decentralized food provision leads to underutilization of what may be a state-of-the-art central commissary.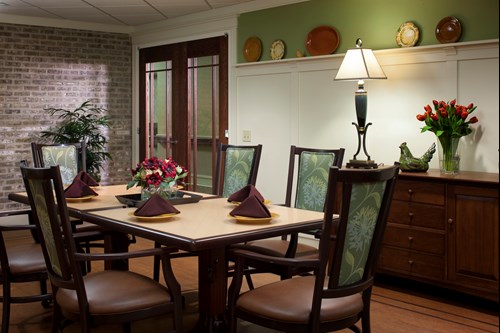 There's no need to abandon culture change, even if your food service infrastructure cannot support a complete operational overhaul.  You can still reap the benefits associated with a serving kitchen and dining venue where menus are flexible and delicious aromas fill the air.  A smaller preparation kitchen, in which bulk foods are delivered and finished, can accomplish many of the same goals envisioned in culture change.   
According to Beth Bossert, NHA, Administrator for Health Care Services at Masonic Village at Elizabethtown, Pennsylvania, "The creation of our new, country style kitchens has been a catalyst for implementing culture change in our residents' daily lives."  
Renovations at Masonic Village helped to create resident-centered households where living spaces are the focus and service areas are tucked away behind the scenes.  Each household has its own serving kitchen and dining space, but Masonic Village has also maintained the central service kitchen for the bulk of the food preparations. 
"By having a central production kitchen support the individual neighborhood country kitchens, we are able to offer flexible dining, accommodate resident preferences and provide improved quality of meals without increased staffing or necessitating significant storage space and equipment," Bossert reports.  
Some facilities may be prepared to totally revamp existing infrastructure, while others are unable or unready to abandon the efficiencies of a central kitchen facility.  The point is, culture change is not now, nor will it ever be, a "one size fits all" initiative.  Every solution should be as unique as the community and residents it will ultimately serve.  Communities should continue embracing culture change with the knowledge that the solution can be as flexible as an all-you-can-eat buffet.   

Steve Fricke
Over the years, the design technology in the food service industry has been rather stagnant…Until now!  Though it is not a new process, BIM has recently made headway in food service applications.
WHAT IS BIM
BIM stands for Building Information Modeling and is nothing more than using certain 3D drafting programs to draw "intelligently."  We're not talking just lines anymore.  "Intelligent" drawings have information stored within all objects from the footers of the building to the shingles on the roof and everything in between.  Drawing in BIM programs, such as Revit, allows the end users to "walk-through" the design well before construction even begins.  This visualization allows the end user to make design tweaks and modifications early on in the process, thus saving both time and money.
HOW BIM WORKS FOR YOU
Visualization:  The programs that offer BIM also provide 3D renderings.  This allows the end user to see how everything in their kitchen and dining areas will function and flow once construction is complete. 
Organization and Accessibility:  BIM takes all of the information stored within each object of the drawing, organizes it and puts it all at your fingertips.
Calculations:  All of the organized information is calculated by the program and output in a manner that everyone working within that construction area can share.  For example, when an exhaust hood drawn by a manufacturer is loaded into the drawing by the drafter the CFM (Cubic Feet per Minute) information pertaining to that hood (calculated by the manufacturer) comes along with it.  Now the mechanical contractor knows how to size his exhaust fans accordingly.
Uses:  Now that all of the information for the entire job has been entered in by each trade the construction documents are complete.  Since all of this is located in one file no information is lost throughout the construction process.  This stored information is now readily available for the end user should they ever need to know even the smallest detail.
Currently, BIM provides a vast amount of information compared to standard drafting but who knows how BIM will expand in the future?  For now, though, one thing is certain: the design team here at Clark Food Service Equipment is geared up and prepared to take you into the BIM world