Chris Purdue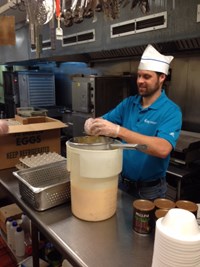 Finding beneficial ways to train employees is not always easy.  Fortunately, the food service industry presents a unique opportunity in which training, being productive, and giving back to the community can all be combined.   
Water Street Ministries, a not for profit organization located in Clark's home town of Lancaster, PA, provides many services for the community including serving 3 meals a day to several hundred homeless.  Water Street recently reached out to Clark for a capital improvement plan for their food service operation.  We thought this would be a great opportunity to give back to our community and provide our employees real world experience in the spaces they help create.  Fifteen Clark employees volunteered to work in Water Street's kitchen during the busy days leading up to Thanksgiving.  Among the designated tasks were peeling potatoes, cracking gallons of eggs, and serving food.  While we may have not been 100% in our comfort zone (especially the salespeople tucked away in the back without human interaction!) we dove head first into our assigned tasks, always keeping the potential redesign in the forefront of our minds.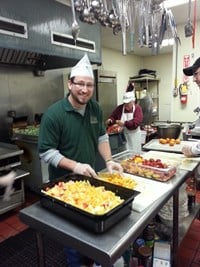 After Thanksgiving, we reconvened in the office to discuss our ideas to improve the operability and feel of Water Street's space.  We found that many of us had the same questions: Why did they have to pull that table away from the wall to get their slicer to work?  Why am I always running into someone when I try to get through this one spot?  Taking everyone's input, we were able to develop a list of points to address in the new design that could make the space more efficient and enjoyable.   
In the kitchen, we reduced bottleneck areas by removing walls and developing designated work stations that are independent of the main traffic patterns. 
We opened the overall kitchen plan to allow better communication between volunteers and staff. 
For the customers, we've created a better experience by opening up the kitchen to the dining area and isolating the serving line from other traffic flow in and out of the kitchen. 
Beyond the simple fact of volunteering some extra sets of hands during a busy time for Water Street, each person made observations while working that benefited the overall design process.  The time spent was both rewarding to the community and to our coworkers, and has resulted in a design document that Water Street is now running a capital campaign to carry out. 
For many industries, real world experience is hard to come by.  However, in all cases, the information learned in a real environment is invaluable compared to a traditional, theoretical training program.  Blending our on-site training with the gift of giving back to the community was not only rewarding and helpful, but an experience Clark hopes to repeat in the future.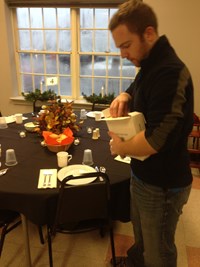 "At Water Street we strongly believe in pursuing best practices which almost always means bringing in professionals in their fields.  The result of which was evident after Clark Associates worked in our kitchen.  We had an idea our space was less than ideal. But after the detail and guidance provided through the onsite observation we were blown away by its potential.  Now we have roadmap to optimize the kitchen space with the right balance of design and function."  Bob Stauffer, CFO, Water Street Ministries