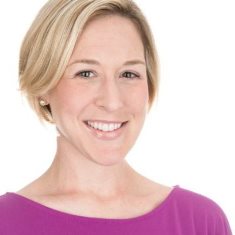 Barbara Kavanaugh
Clark Associates, Inc. is pleased to announce that is the recipient of Foodservice Equipment Reports magazine's 2017 Management Excellence Award for dealers.
With double-digit revenue increases over the past 11 years, including a 42% increase in 2016 compared to 2015, Clark Associates' success comes from a combination of innovation and continuous improvement, with a focus on hiring the right people and training them well.

CEO Fred Clark's leadership philosophy results in a driven, young workforce that leverages technology to its advantage. He encourages a DIY approach to problem-solving, with an emphasis on training and personal development. With an average age of 37, Clark Associates is a young company, and managers and employees are committed to allowing people to succeed. For example, Clark spends one-on-one time mentoring and training mid- and upper-level managers to ensure that they understand how different types of personalities can work together most effectively.
David Groff, President of the company's WebstaurantStore division, says that one of his most important jobs is creating a culture that allows people to excel. He personally takes all new managers through a 10-week training course that uses videos, discussions and role-playing to lay out company expectations and reinforce core values.

Clark Associates has received similar recognition both in the foodservice industry and local business community. For example, the company was named Foodservice Equipment & Supplies magazine's 2015 Dealer of the Year. It has also been recognized in the Central Penn Business Journal's list of top fifty fastest growing companies in central Pennsylvania for 8 consecutive years.
Read more about it here: https://www.fermag.com/articles/7236-management-excellence

About Foodservice Equipment Reports Management Excellence Award: Award Selection Advisory Board members are made up of knowledgeable industry professionals from the foodservice equipment manufacturing community. Judging criteria for the award include: honesty, transparency, and integrity in dealing with employees, suppliers, and customers; deeply knowledgeable management and personnel; consistency and excellence in equipment and supply function execution; consistent revenue and profit growth; and creativity and innovation. All candidates must make a significant contribution to the industry. Clark Associates will accept the award during the 2017 FER Industry Excellence Awards Gala at the Hyatt Regency Orlando, on February 10, 2017.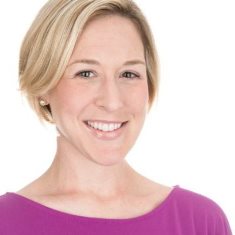 Barbara Kavanaugh

Clark Associates believes in giving back to the community and recently did so in a big way when Water Street Mission (WSM) was in need of a new kitchen space to serve meals to the homeless. Clark Associates donated $175,000 of brand new kitchen equipment to the ministry, as well as pulled together an incredible team of local businesses to get the job done in exactly one week.
Mission Makeover: Beat the Clock to the Feed the Flock, started with a team of employees from Clark volunteering in the mission's kitchen to learn about its daily operations and gain an understanding of the kitchen staff's biggest challenges. The next step was redesigning the space in a way that improved work flow to serve over 140,000 meals a year and recruiting contractors and tradesman to get the job done. Warfel Construction acted as general contractor; Elkwood Construction, Barry's Commercial Installation, Haller, Bomberger's Flooring, as well as many others contributed time and resources. "It was amazing to see so many people come together for the cause," commented Director of Project Management, Jamie Rottmund, "It was truly a team effort."
That team effort was put to the test when concerns were raised about the length of time the mission's kitchen would need to be closed in order to complete the renovation. The solution? Completing what typically takes about six to eight weeks in just one – an extreme makeover. "Instead of a weekly schedule, we planned by the hour and worked 24/7," said Rottmund. "It certainly was challenging but it was also very exciting. We all helped each other."
WSM opened its doors and served dinner in their brand new space exactly one week to the day. The total project cost was close to $900,000; over $600,000 has been raised to date.
Before:
After: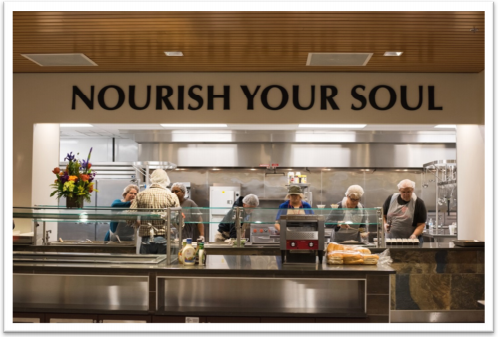 Project documentary created by Water Street Rescue Mission: http://clarkfoodserviceequipment.biz/mission-makeover/
Lead Cook at Water Street Mission sees new space for the first time: http://www.wgal.com/news/the-big-reveal-see-the-results-of-mission-makeover/38392208
For more information, please contact: Barbara Kavanaugh (717) 392-7363 x556 bkavanaugh@cfse.biz

Chris Purdue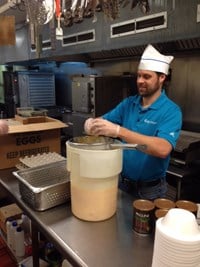 Finding beneficial ways to train employees is not always easy.  Fortunately, the food service industry presents a unique opportunity in which training, being productive, and giving back to the community can all be combined.   
Water Street Ministries, a not for profit organization located in Clark's home town of Lancaster, PA, provides many services for the community including serving 3 meals a day to several hundred homeless.  Water Street recently reached out to Clark for a capital improvement plan for their food service operation.  We thought this would be a great opportunity to give back to our community and provide our employees real world experience in the spaces they help create.  Fifteen Clark employees volunteered to work in Water Street's kitchen during the busy days leading up to Thanksgiving.  Among the designated tasks were peeling potatoes, cracking gallons of eggs, and serving food.  While we may have not been 100% in our comfort zone (especially the salespeople tucked away in the back without human interaction!) we dove head first into our assigned tasks, always keeping the potential redesign in the forefront of our minds.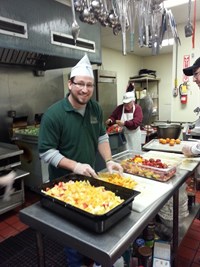 After Thanksgiving, we reconvened in the office to discuss our ideas to improve the operability and feel of Water Street's space.  We found that many of us had the same questions: Why did they have to pull that table away from the wall to get their slicer to work?  Why am I always running into someone when I try to get through this one spot?  Taking everyone's input, we were able to develop a list of points to address in the new design that could make the space more efficient and enjoyable.   
In the kitchen, we reduced bottleneck areas by removing walls and developing designated work stations that are independent of the main traffic patterns. 
We opened the overall kitchen plan to allow better communication between volunteers and staff. 
For the customers, we've created a better experience by opening up the kitchen to the dining area and isolating the serving line from other traffic flow in and out of the kitchen. 
Beyond the simple fact of volunteering some extra sets of hands during a busy time for Water Street, each person made observations while working that benefited the overall design process.  The time spent was both rewarding to the community and to our coworkers, and has resulted in a design document that Water Street is now running a capital campaign to carry out. 
For many industries, real world experience is hard to come by.  However, in all cases, the information learned in a real environment is invaluable compared to a traditional, theoretical training program.  Blending our on-site training with the gift of giving back to the community was not only rewarding and helpful, but an experience Clark hopes to repeat in the future.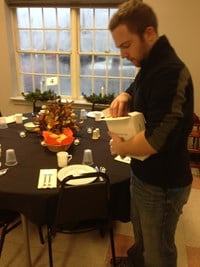 "At Water Street we strongly believe in pursuing best practices which almost always means bringing in professionals in their fields.  The result of which was evident after Clark Associates worked in our kitchen.  We had an idea our space was less than ideal. But after the detail and guidance provided through the onsite observation we were blown away by its potential.  Now we have roadmap to optimize the kitchen space with the right balance of design and function."  Bob Stauffer, CFO, Water Street Ministries